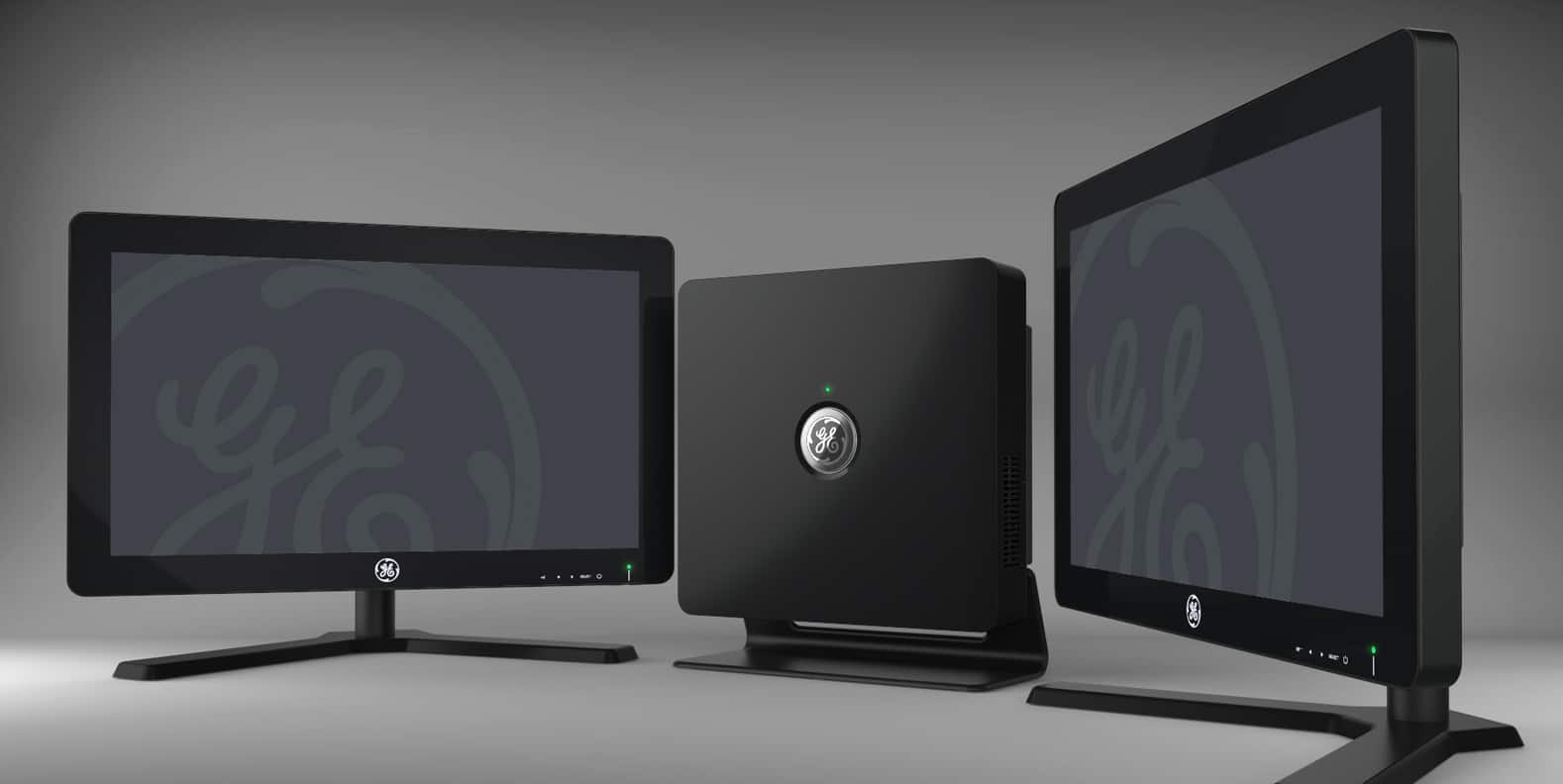 GE Healthcare
Industrial Design
Engineering
Prototyping
The GE CARESCAPE Central Station is a clinician-centric workstation designed for space optimization and workflow efficiency.
StudioRed created this system to include three product options;
1. All-in-one system with 16:9 touch-screen, fan-less, solid state drive and embedded speakers
2. CPU-only (shown at center)
3. Display-only with embedded speakers
All three have a desktop-stand and VESA mount for wall or arm attachment
The goal was to create a GE branded, sleek and ergonomically optimized computing system for the hospital environment. This meant it needed to be touch screen, cleanable (smooth frameless glass), silent, modular and flexible in both system configurations and mounting options.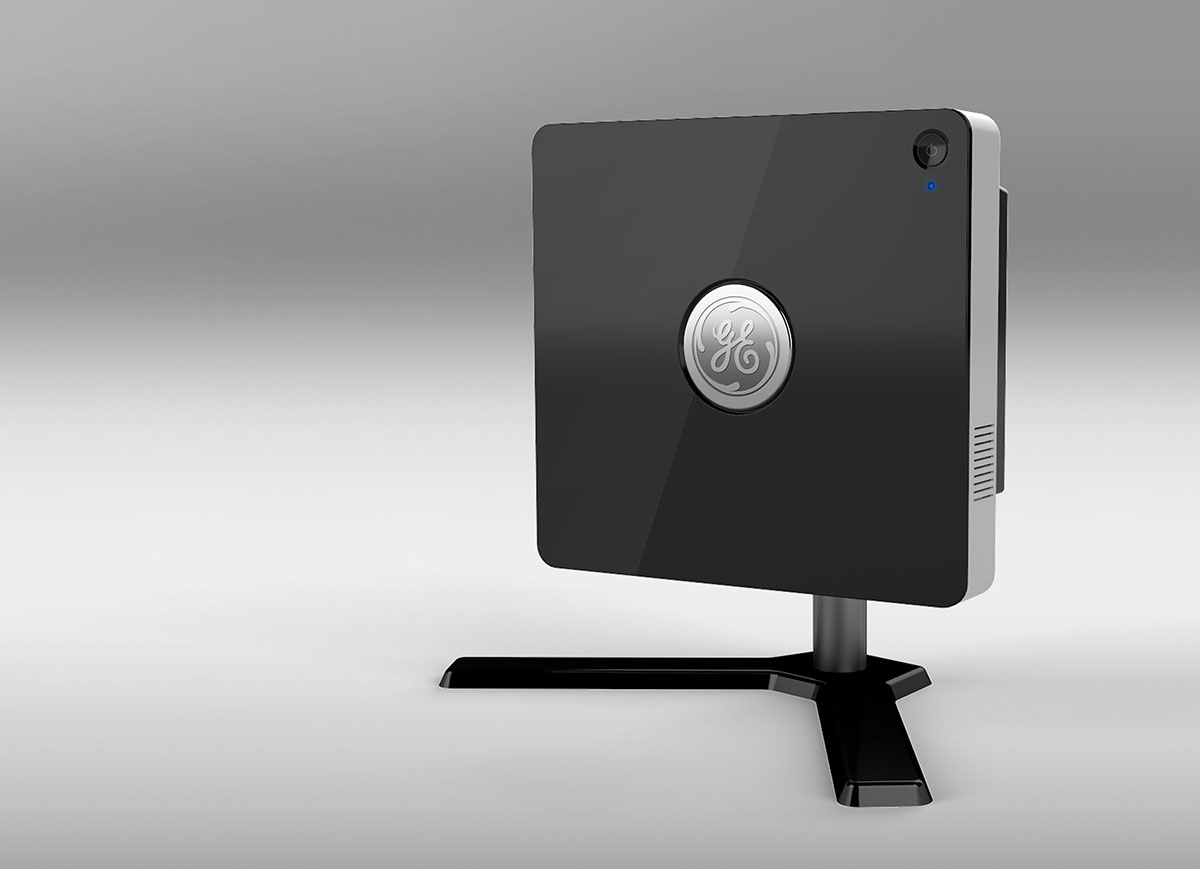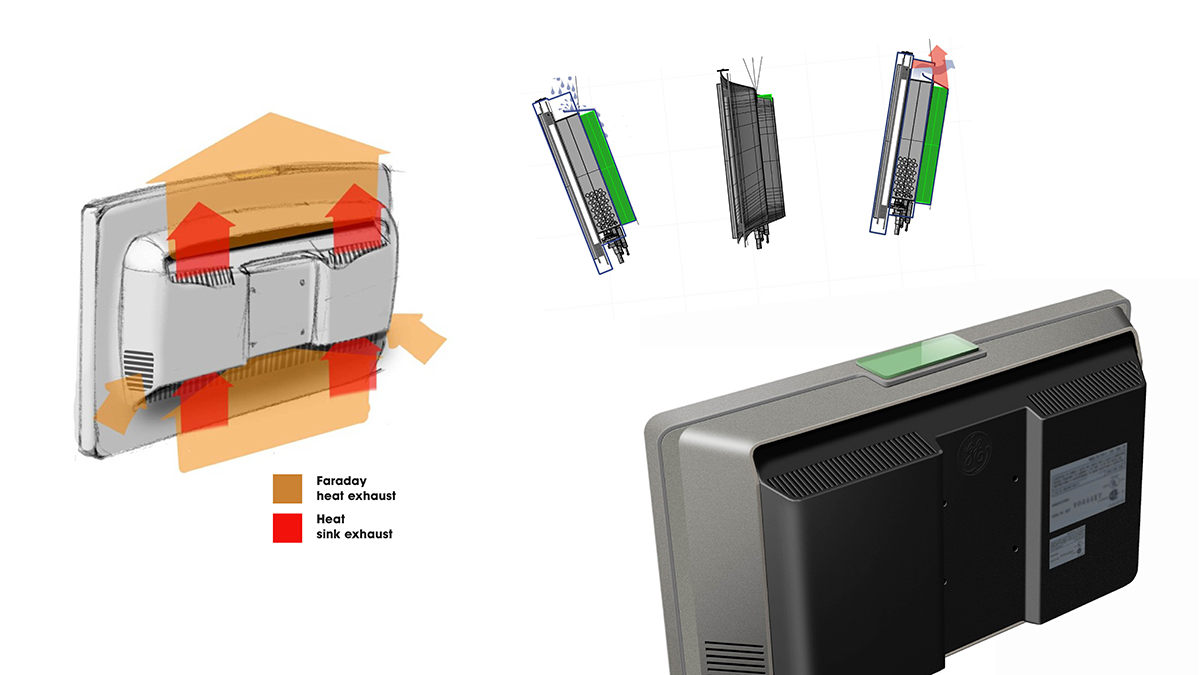 Designing for a silent modular solution meant it required a fan-less thermal solution. To achieve this we started with a thermal model of its maximum configuration (hottest component stack-up) and determined if a heat sink would maintain component temperature thresholds below critical maximums which reduce product life. A heat sink was sized, thermal models completed and it was determined that it would function in the environmental range of hospitals worldwide.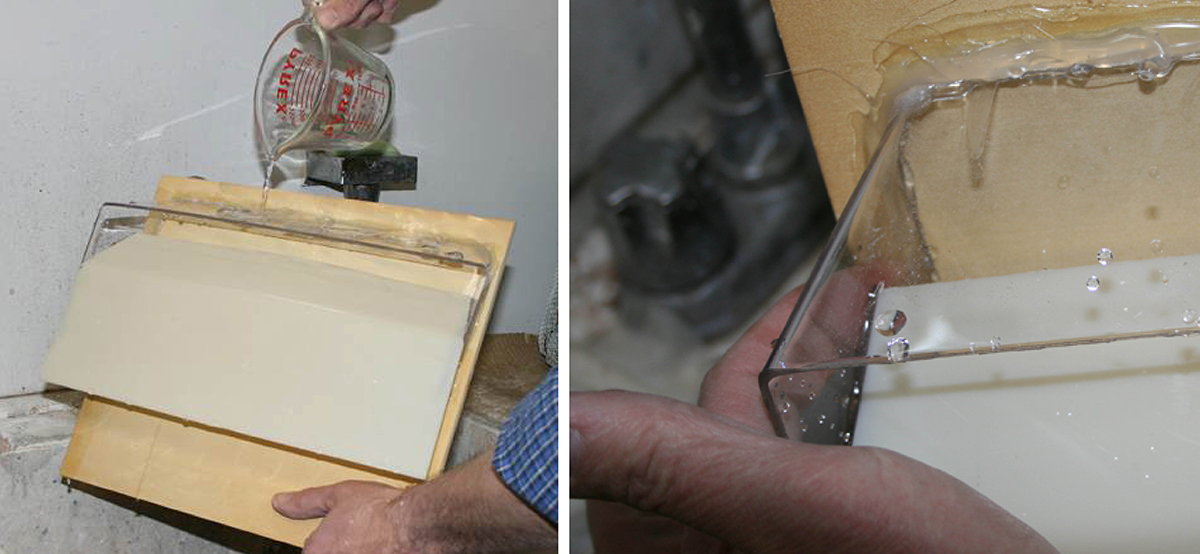 The unit needed to fully cool itself without a fan and must remain safe after water was poured over the system following IPX1 Standards, meaning no water could ingress into the housing and compromise UL safety standards. Test mockups were made, tested and resulted in a successful enclosure design allowing full thermal performance using only heat sinks and radiant chimney effect.
The system design was to utilize a single display with a custom touch screen solution allowing the frameless glass to have no part breaks except where it seals to the rear housing at the sides and top. As one component, this display then became the base system, to which we could add a computing system as a module electronics component assembly.
Because the unit was intended for a worldwide market of nurses and hospitals, all  functions must be simple, intuitive and timeless.
Our frameless glass allowed for easy cleaning. Buttons were clearly placed at the bottom of the display, permitting pass through lighted icons in the black frameless glass section. The buttons were in-molded within the housing  there by reducing part count  while making the overall system robust and easy to maintain.
Touch screen interaction furthered this simplicity by allowing the icon interaction to work with a keyboard, mouse or touch. All this was intended to be robust, water tight and commercial/medical grade.
A lighted alarm light pipe is proud on the top of the system to allow visibility from any angle, even directly from the side or rear.
Early on, an ELO touch panel display system was identified as the preferred technology. With our technical specification, a front glass module was engineered to integrate directly into our plastic assembly.  This allowed for a full width, glass surface without any bezel or other part seams permitting a clean wipe down.
Display controls were hidden below the bezel with lights passing through the glass front in a discrete location for all other display information.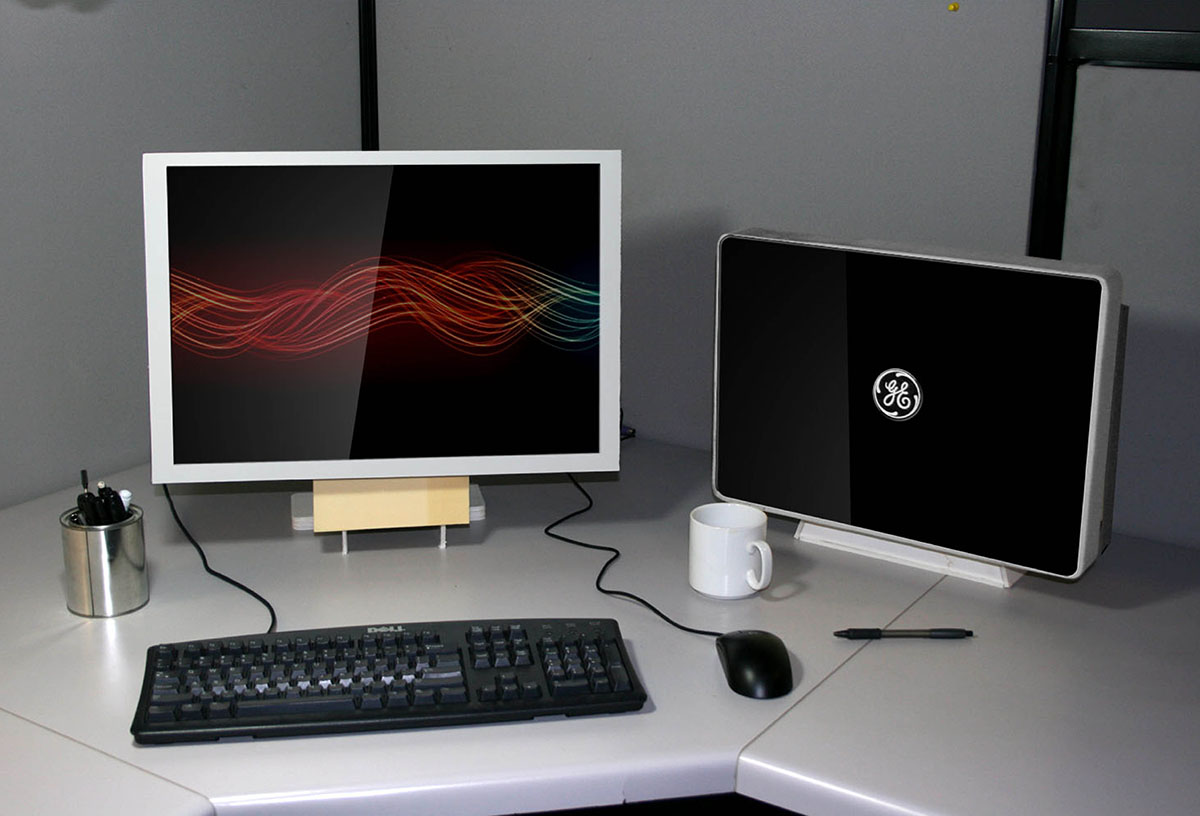 Each unit was required to be either; stand mounted for use on a counter or table top, wall mounted on a modular wall system, or arm mounted for articulation in all directions. This utilized the worldwide standard vesa mount and allowed for easy integration with existing hospital infrastructures.
Since there were really only two basic modules,; a display system, computer/networking system, each being somewhat similar in size and thickness, a simple enclosure with the ability to allow for adding the module or not, made a simple effective mechanical solution and reduced mold and part count provide the two options (all in one and display only) in one design. The stand alone computer was a simple enclosure mimicking the design details but rounding out the product line offering.
In addition to accounting for the convection cooled thermal solution, the water ingress requirements of the system had to be met. This was done with simple tooling without slides or moving elements of the molds.

Units were prototyped and tested before tooling began. All custom component parts were CNC'd from native material equal to final material chosen for production. This allowed for testing of all assembly tolerances, structure and other plastic signoff. Additionally final EMI, thermal and water ingress testing occurred.
GE provides the largest market share of nurse's station monitoring systems throughout the world. This new Carescape system brings the next generation of patient monitoring to the medical and hospital communities worldwide touching a significant number of users.
Additionally with the sleek design, ease of cleaning and interaction, it should improve care giving, reduce disease through contamination and ultimately save lives by improving productivity and reducing errors throughout its lifetime of use.
Fanless design improves product longevity, reduces noise and down time through minimized repair issues. Also in some countries, repairs are a major concern through the product life, so much that it impacts product purchasing choices, limiting good lifesaving options such as this.
Lastly, the timeless design language and use of very advanced technology will allow us to assure the investment in infrastructure, training, staff confidence and reduction of mistakes will give hospitals a financial savings throughout the product lines' tenure.